ARTICLE ● Lawyers increasingly concerned about interplay between virtual and in-person court operations ● LAW TIMES Mar 30, 2022
Lawyers increasingly concerned about interplay between virtual and in-person court operations
'Presuming that we keep using CaseLines for in-person arguments, how does that work?' asks litigator
BY Annabel Oromoni 30 Mar 2022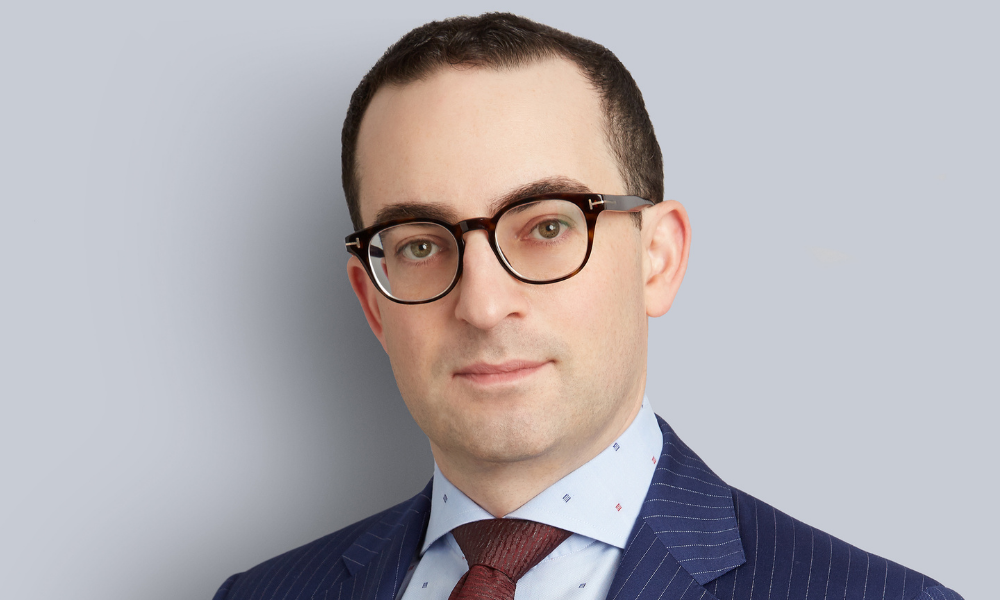 Eric Sherkin is a commercial litigator and partner at Miller Thomson LLP
As civil proceedings prepare to return to in-person hearings for discoveries, mandatory mediations, and trials, litigation lawyer Eric Sherkin says lawyers are wondering about the interplay of online and in-person arguments.
Certain hearings like pre-trials and case conferences will remain remote but how it works in practice beyond that is still unknown, Sherkin says.
All parties can agree to a virtual hearing, but "how often will all counsel say, 'let's agree to do this on Zoom,' or will there be fights where five lawyers want to proceed on Zoom, and one insists on doing it in person?"
The modernization of the court system has been a long time coming, and Sherkin says the ability to file more documents online rather than sending a processor to stand in line in the courthouse with boxes of paper is a silver lining of the pandemic.
With legal materials uploaded to CaseLines, commercial motions and trials through Zoom have been the new normal. For example, in January, Sherkin says Justice Myers spoke about wanting counsel to present the materials on CaseLines and direct the court to the page number.
"If we're going to argue a motion in person, does that mean that the judge has a laptop, and we bring a laptop, and I'm sitting at the table navigating through the case line page numbers? Surely, we're not going back to filing paper documents again."

 "Presuming that we will keep using CaseLines for the in-person argument of motions and trial, how does that work?" he asks.
He says many firms have converted board rooms into virtual courtrooms to simulate being in an actual court, especially for first and second-year associates called to the bar during the pandemic, so it will be interesting to see how things unravel.
Sherkin starts a trial in May and is curious to see how that will go because part of his preparation will depend on technical issues. "I don't know how this is all going to work."
Lawyers handling files in other jurisdictions will also need to commute far to represent clients for in-person hearings, and he says some clients do not want to go back to in-person because it costs them more money
He says clients must pay for a lawyer's travel time and room rental fee if discoveries are in person, so they are happy to do it remotely.
Judges are also beginning to request lawyers be robed for virtual hearings, and Sherkin says the court is trying to balance the progress in doing things more efficiently while holding on to the past legacy of decorum and solemnity.
"That we are all dressed a certain way is meant to convey the solemnity and seriousness of what we are there to do as part of the justice system and make sure that no one is judged or no impression given to a judge by how somebody is dressed."
Some people oppose the suggestion of gowning for virtual attendances, but he says others think it makes sense, referring to a tweet where a user asked if lawyers should stand up in front of their computer screen while making submissions.
"Some people said 'yes, of course, I always do, that's just common courtesy,' and I've never done that in my minutes," he says. "You're supposed to stand up, but I have to look into the camera, and if the angle is weird, and I've got to manoeuvre the mouse and type documents into the screen, how will that work?"
Sherkin says the early stages of the new changes will be a trial-and-error situation – like the beginning of CaseLines when the legal community was learning how to use the program.
Scheduling hearings could be more effective and efficient remotely, but Sherkin says it is a much better system than before, and Justice Meyer's decision suggests that lawyers should be proficient in using the program by now.
"It should have been incumbent upon all lawyers to learn how to use this program, and the excuse I don't know how to use CaseLines, and it's new, doesn't fly anymore. This is a crucial tool."
He says many court delays are because of a lack of people and a bottleneck in the system. "If you want to book a short motion in front of an associate judge in Toronto today, you're getting booked in December or January because there aren't enough judges available to handle the volume of cases."
Court staff sometimes handle the filing volume but go on vacation in the summer, so he says that is an endemic problem more than specific challenges with electronic filing.